FIRM OVERVIEW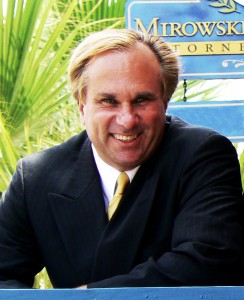 We at Mirowski & Associates are committed to providing aggressive legal representation to businesses and residents of the San Diego and the Southern California regions. For more than 25 years, Mirowski & Associates have assisted our clients in achieving optimum results by goal oriented, cost effective planning & problem solving and tough-minded negotiation. However, when logic fails, we can back you up with over 25 years of litigation experience. The following pages have information that may help you and your business so feel free to browse around this site and contact us at:
Mirowski & Associates
8030 La Mesa Blvd. #501
La Mesa, CA. 91942
Tel. No. (619) 702-5300; Fax No. (619) 702-4666
E-Mail address: pmirowski@mirlaw.com
---
---
PAUL J. MIROWSKI
Recognition & Awards 
Paul J. Mirowski has been repeatedly recognized by the legal community including:
Mirowski has received the preeminent  "AV"  rating by Martindale-Hubbell® Peer Review Ratings which means that Mirowski has received the "Highest Rating in Legal Ability and Ethical Standards" or the "pinnacle of professional excellence earned through a strenuous Peer Review Rating process."
San Diego Magazine annually list Mirowski as one of San Diego's Top Business Lawyers.
San Diego Business Journal annually lists Mirowski as one of San Diego's Top Attorneys
San Diego Business Journal has granted Mirowski one of the Top Corporate Counsel Awards for 2015 and 2016.
Bar Admissions
California Supreme Court (1982)
U.S. Court of Appeal, 9th Circuit (1983)
U.S. Court of Appeal, 2nd Circuit (1993)
U.S. District Court, Southern District of California (1983)
U.S. Tax Court (1983)
Education
Juris Doctorate from the University of San Francisco 1982
Bachelor of Science from Michigan State University 1977
About Paul J. Mirowski
Paul Jospeh Mirowski grew up in Michigan where he earned his Bachelor of Science at Michigan State University. Later he moved to San Francisco to attend law school at the University of San Francisco School of Law. After passing the California bar on his first try, in 1983 Paul formed Mirowski & Associates in San Diego and naturally specialized in representing the Creative Community. One should never leave one's passions behind. Paul's passions are wine and music. In addition to the practice of law, Paul Mirowski is a winemaker and musician.
Paul and his brother James have made wine for over 15 years. In 2007, they opened the boutique urban winery known as Treasure Island Wines located on Treasure Island in the Bay of San Francisco www.tiwines.com. You can purchase our wines and swag at Treasure Island Wines Store
Paul has written and lectured on various topics including many Entertainment and Intellectual Property issues, served as a Commissioner pro-tem (Small Claims Judge) in San Diego Courts and has been an adjunct professor of law at Thomas Jefferson Law School, UCSD and Grossmont College where he has taught such classes as "Entertainment Law and Practice" and "Computer & Hi-Tech Law." Paul's legal career includes a "scam" busting case against local "talent agents" which was widely covered by the San Diego news media and successfully advocating for his client in a New York Federal Appellate case concerning Trade Secrets [See Julie Research Lab. Inc. v. Select Photographic Eng. Inc. et. al.  (1993) 998 F.2D 65]. Mirowski has also been Chairman or Co-Chair of San Diego Entertainment & Sports Lawyer's Association and presently hangs his shingle as Mirowski & Associates in La Mesa.
Even with his law practice, Paul continued to be involved in the music scene. In his early years, Paul played keyboards in such notable bands as Primal Grunt. After finishing law school and moving to San Diego, Paul formed the band "Species" and later released an album of his original work entitled "Of Questionable Origins." This album can be purchased on-line including from ITunes Species ITunes. Paul continued to be involved in artistic endeavors including playing keyboards and rhythm guitar in San Diego bands including "The Cubes" (an 80's cover band), "Shady Grey" (a Classic Rock cover band) and "Rock Justice" – the Winner of the 2007 "Jam for Justice" Battle of the Bands and again, Winner of the 2010 Battle of the Bands held respectively at 4th & B and Canes in Mission Beach by the YNLD section of the San Diego Bar Association.
---
Civil Litigation & Arbitration: (Both Plaintiff and Defendant)
Medical Practitioner Contracts and Entity Formation
Public Sector Labor Relations / Union Matters
Business Contracts, Disputes and Litigation
Employment Contracts and Disputes
Contract Drafting, Review, Negotiations & Strategy Counseling
Corporation / L.L.C. / Partnership Formation and Maintenance
Entertainment Industry Matters: including Contracts and issues including Music and Art Issues, Recording, Production, Publishing & Management Contracts & Disputes / Internet Use (and Misuse) and Intellectual Property Matters
Federal & State Trademark Applications, Intellectual Property Matters, Trade Secret Law & Litigation
Copyright Law & Litigation
Internet Law & Litigation
Wine / Alcohol Licensing, Permits and Disputes
Real Estate Matters: including Contractor Contracts, Matters and Disputes
Government Liaison
---
DISCLAIMER & TERMS OF USE OF THIS WEBSITE
PLEASE NOTE: THE FOLLOWING CONSTITUTES THE TERMS AND CONDITIONS FOR THE USE AND VIEWING OF THIS WEBSITE. BY ACCESSING THIS WEB SITE, YOU ARE AGREEING TO THE TERMS HEREIN. (Pay attention – This is the "legal stuff").
Please be aware that all legal issues are complex and are dependent upon the particular facts and circumstances found in each case. Additionally, laws, regulations and interpretation of those resources constantly change. Generalizations are no substitute for professional review and analysis. The Viewer of this web site should not assume that they can apply the discussions herein to their particular situation for which they are advised to consult a qualified attorney. As a result, the viewer of this web site, regardless of other factors, accepts and agrees to the following terms of viewing:
NOTHING CONTAINED HEREIN CREATES AN ATTORNEY-CLIENT RELATIONSHIP BETWEEN MIROWSKI & ASSOCIATES AND THE VIEWER.
THE INFORMATION WHICH IS CONTAINED HEREIN, OR WHICH MAY BE DERIVED, FROM THE CONTENT OF THIS WEB SITE, IS SIMPLY OFFERED FOR GENERAL INTEREST AND DISCUSSION. SAID MATERIAL IS NOT TO BE INTERPRETED AS LEGAL ADVICE. ACCORDINGLY,MIROWSKI & ASSOCIATES SHALL NOT ASSUME ANY LIABILITY FOR RELIANCE, BY ANYONE, ON ANY OF THE INFORMATION CONTAINED HEREIN. MIROWSKI & ASSOCIATES DISCLAIMS ANY WARRANTY, EXPRESS OR IMPLIED AND IN NO EVENT WILL MIROWSKI & ASSOCIATES BE LIABLE FOR ANY CLAIMS OR DAMAGES, INCLUDING BUT NOT LIMITED TO ANY LOST PROFITS NOR ANY INCIDENTAL OR CONSEQUENTIAL DAMAGES.
ANY LINKS PROVIDED IN THIS WEB SITE ARE PROVIDED SOLELY FOR THE CONVENIENCE OF THE VIEWER. THE VIEWER IS NOT TO ASSUME ANY ENDORSEMENT, SPONSORSHIP, RECOMMENDATION OR RELATIONSHIP BETWEEN MIROWSKI & ASSOCIATES AND THE CONTENT, INDIVIDUALS OR ENTITIES FOUND AT SAID LINKED SITES. MIROWSKI & ASSOCIATES ASSUMES NO RESPONSIBILITY FOR THE CONTENT, ADVICE, LEGALITY OR DECENCY OF MATERIALS CONTAINED IN LINKED SITES. ALL LINKS ARE ACCESSED AT THE VIEWER'S OWN RISK.
THERE CAN BE NO GUARANTEES OF CONFIDENTIALITY WITH REGARD TO COMMUNICATIONS TENDERED OVER THE INTERNET. MIROWSKI & ASSOCIATES ASSUMES NO LIABILITY OR DUTY TO PROTECT COMMUNICATIONS DIRECTED AT OUR OFFICES BY EMAIL OR OTHER UNSECURED COMMUNICATIONS. CLIENTS OF MIROWSKI & ASSOCIATES MAY CONTACT US FOR IMPLEMENTATION OF SECURITY PRECAUTIONS. ALSO, PLEASE BE WARNED THAT UNSECURED COMMUNICATIONS MAY LOSE THEIR ABILITY TO BE PROTECTED BY THE ATTORNEY-CLIENT PRIVILEGE.
THE USE OF "MIROWSKI & ASSOCIATES" OR "WE" OR "US" HEREIN SHALL BE INTERPRETED AS TO INCLUDE ALL ATTORNEYS, EMPLOYEES AND AGENTS OF MIROWSKI & ASSOCIATES IN ADDITION TO ANY OF THOSE PERSONS OR ENTITIES WHO DIRECTLY OR INDIRECTLY HAVE PLAYED A PART IN THE DESIGN, IMPLEMENTATION OR DISPLAY OF THIS WEB SITE.
ANY COMMENTS, COMPLAINTS, REVIEWS OR NOTATIONS REGARDING THIS WEB SITE SHOULD BE DIRECTED TO PMIROWSKI@MIRLAW.COM. BY VIEWING THE CONTENTS OF THIS WEBSITE, THE VIEWER, AND ALL RELATED PARTIES AGREE THAT THE ONLY PROPER VENUE AND JURSIDICTION FOR ANY CLAIM, ACTIONS OR TRIBUNAL OF ANY KIND REGARDING THIS WEBSITE AND THE CONTENT THEREIN MUST BE INSTITUTED AND CONDUCTED IN THE CENTRAL DISTRICT OF SAN DIEGO CALIFORNIA.